Coitus
My handsome British Slave, who worked in Kurdistan, invited me for a holiday
in Turkey.  A few lavish days in Istanbul's Cirigan Palace preceded our
journey down to Cappadocia, where he would fully serve and spoil me.
Collared he drew me a bath in our magnificent suite at the Museum Hotel.
Mistress disrobed and carefully entered the large jacuzzi tub.
"Slave, where is my champagne?"
Obediently, he brought me a glass of champagne, chilled ice cold to
perfection.  Slave assumed his position on the floor, naked, palms face
open, bowing his head and kneeling on the beautiful Persian carpet beside
the tub.
It was a pleasant view out over the magnificent mountains of Cappadocia. I
watched the hot air balloons drifting through the sky gracefully feeling a
sense of inner peace.
It seemed the perfect time for a foot massage.
"Slave, get in the jacuzzi and massage my feet and don't splash me when you
enter. "
"Permission to enter the jacuzzi,
Mistress
?" I watched as slave's tan, well
toned body entered the jacuzzi.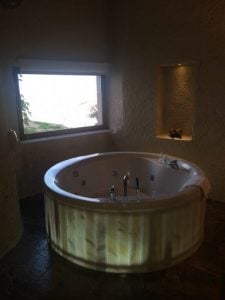 Bad Slave! He entered the large tub and I felt a single drop splash on my
cheek.  "SLAVE! Look my way, eyes cast down." My right hand raised, I
slapped slave across his face firmly, before instructing him to sit across
from me.
Mmmm, the water's warmth and slave's strong hands massaging my feet put me
in a state of euphoria. My feet moved along his strong legs up to his thick
erection.  However, slave's erection is not my problem. This is my quality
time. Slave took my feet in his hands, covered them in shampoo, massaging
them slowly and sensually to make me happy.
My champagne glass is now empty and it's time to leave the tub.  Slave steps
out to collect my towel. He wraps the luxurious bath sheet around me.  A
sense of peace but a slight edge remains.
I dry off and walk to the bed.  Sitting on the bed, I sink into it.  "Slave,
get over her and service me."  Relaxed on my back, I feel slave, adjusting
before me kneeling.  Slave is well trained at pleasing me.  He skilfully
begins with his mouth and hands at the tempo I like.  I grab his thick black
hair and push him into me. His performance is excellent. Truly, I could make
slave do this all night, but it's almost time for dinner.
Multiple orgasms later, slave is covered with my juices I squirted all over
his face, neck, chest and arms. Blissfully relaxed, I order slave to stand
before me and masturbate.  I enjoy looking at him collared, all of his
muscles flexing, pinching his nipples as he strokes his thick cock in front
of me. "Slave, I want you to cum now, all over yourself" seconds later,
slave covers his hairy, toned and tan abs with his spunk.  "Eat it!" I
demand. It's a lovely image watching him obey me. However, I'm starving.
"Slave, shower and get ready, it's dinner time."
Cappadocia is the dreamiest place!
https://jetsetmistress.com/wp-content/uploads/2013/12/Wolford-with-Gucci-Stilettos.jpg
759
831
Mistress Gweneth
http://jetsetmistress.com/wp-content/uploads/2013/12/jet-setting-mistress.png
Mistress Gweneth
2017-03-23 11:56:32
2017-03-23 11:56:32
Coitus in Cappadocia