It was a regular Wednesday in January, when I drove down from Nashville to a small town in Alabama called Athens and checked into my hotel.  Luckily, they honoured my request for a room at the end of the hallway.  I even received an upgraded to a king suite.
While relaxing in my suite, I unpacked and began preparing for the next day by logging onto Craigslist.  It seemed like the perfect place to advertise for what I was planning.
My strict requirements were for a married man (wearing a wedding ring) between the age of 25-40 to be available the next morning between 10 – 11 am. He must be in excellent shape, hygienic, no facial hair with a warning that ignorant men sending a dick pic would be rejected.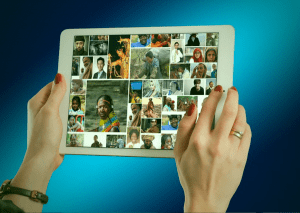 My iPad immediately began pinging with activity. Men must be bored out here in the middle of nowhere. I removed my makeup before crawling into bed for my beauty sleep.
The next morning, I awoke nice and early to organise my day and visit the gym before the fun began.  It was entertaining to see over 80 email replies had already arrived from men in this small town who read my advertisement.  When I turned on my burn phone an uncountable number of text messages were there and continued to arrive from respondents.
The first 50% of email responses were easy to delete. Those men were ignorant enough to send disgusting penis photos.  Willy Nelson look-a-likes and obese men were the next group to be disqualified. The final selection list were required to send their phone number and must be available for a quick phone call to confirm their authenticity and sanity. Once I pre-approved him 'he' might be the lucky married man.
My toughest choice was chocolate or vanilla.  A bull can be fun, but they are often too large.  Hmm…. A decision needed to be made as I was down to three sexy married men. Who would be lucky enough to perform for me? It was now time for the gym to clear my head.
Slave arrived promptly at 9 am.  I sent him into the bathroom to use an enema.  All the while, my phone and iPad continued to ping.  Hahaha! Married Men can be so desperate for a bit of excitement, can't they?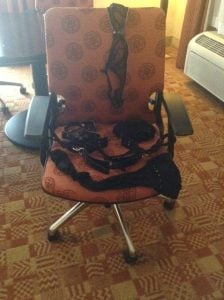 Slave returned to the living room and tried to speak.  I grabbed him by the hair, forced him to his knees, ball gagged him and taped the gag over his mouth. Ahhhh! Silence.  Time to punish and prepare him.  "You are not to speak. You are to do as I say. You must keep your eyes cast down unless otherwise informed and you will obey my every order.  Am I clear?" Slave nodded in agreement.
Spanking and a butt plug were the first order of the day. Once the butt plug was secure, I placed a chair in front of the bed, instructed slave to sit on it with the butt plug deeply inside of him.  He foolishly continued to touch his erection, which he didn't have permission to do. Therefore, I tied him to the chair with his hands shackled behind his back to prevent further disobedience.
"Slave, today is all about me and my desires. You are greedy and very selfish. You do not follow the rules I give you and now you will be taught a lesson.  Today, you shall do as I tell you and trust that I have your safety in my consideration for everything we do.  Am I clear?" Slave nodded in agreement.
It was now time for my fun.  I pulled a pretty dress over my sexy lingerie as slave watched me. Then, I placed a black bag over slaves head.  "Behave!" I said and left him alone, bound to the chair in the hotel room.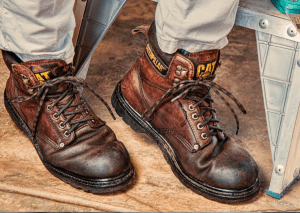 I took the elevator down to the lobby where a gorgeous construction worker awaited. He was handsome, well built, wearing fitted jeans, CAT's and a t-shirt that was nicely taunt over all of his muscles.  He smiled when he saw me and his blue eyes sparkled with excitement.
We arrived in the room, my construction worker looked at slave in amazement and asked if he was my husband.  I laughed, pulled the black bag off of slave's head and said "Yes, my husband has been very naughty. He cheated on me."
Slaves eyes showed shock.  My construction worker was highly aroused. He began kissing me sensually, removed my dress and ran his strong hands all over my body skilfully.  Both men regularly exchanged glances as I received my reward.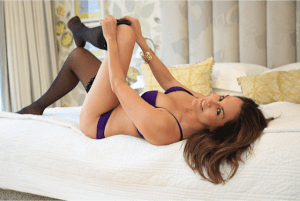 Construction worker enjoyed every inch of my body and began pleasing me between my legs skilfully.  I came quickly and pulled his jeans off to reveal a healthy 7 inches with serious girth.  I couldn't grab a condom quickly enough.
Passionately, he kissed me as we climbed onto the bed enflamed with desire. His lips covered my face, neck, breasts and stomach before he entered my tightness, filling and stretching me open.
My moaning increased, as I looked at slave.  His eyes were wide open and his pupils were dilated. Slave had an intense look and firm erection while he watched us. Construction workers skill and strength made me cum repeatedly.  I rolled over onto my knees to be taken from behind.
Construction workers hands went through my hair, down my back until he forcefully grabbed my hips and with his masculine force finished our intense act of pleasure as we came together.  I was trembling. My heart was beating fast as I looked at slaves face.  He had a look of pure shock.
I stood up, grabbed a water for construction worker and handed it to him, while he laid recovering on the bed.  Meanwhile, I walked over to slave and softly whispered, "I want you to suck his cock clean" Slave began to fidget and tried to escape, but he could not.
Walking back to the bed I laughed, crawled back on the bed, whispered into construction worker's ear and we both turned to look at slave.  Slave's eyes showed pure fear.  Slowly construction worker stood up. He looked at slave, dressed then left.
Hahaha!  Slave was trembling all for nothing.  I laughed and went off to take a shower. When I returned, I walked around slave, released one of his hands and instructed him to masturbate.  He came instantly, begged to be released and rushed off to the shower, dressed, then ran out of the room without saying a word…
Time to return to Nashville.
https://jetsetmistress.com/wp-content/uploads/2016/08/worker.png
640
900
Mistress Gweneth
http://jetsetmistress.com/wp-content/uploads/2013/12/jet-setting-mistress.png
Mistress Gweneth
2016-08-31 06:02:36
2016-08-31 08:13:58
Athens Alabama Cuckold